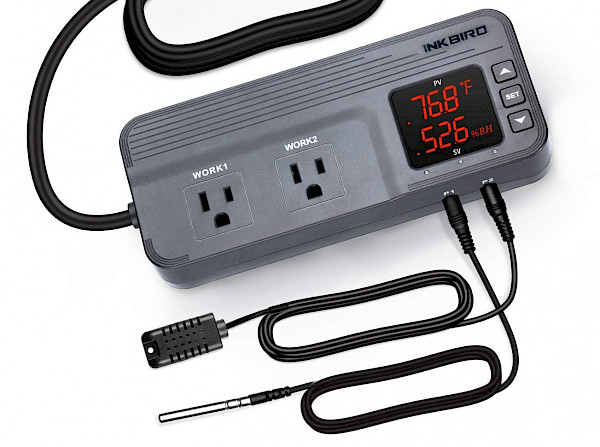 Inkbird Outlet Thermostat Temperature and Humidity Controller ITC-608T
Easily control the temperature and humidity of your homemade refrigerator/aging cellar with this external box that will trigger your devices (refrigerator/cellar and humidifier) using its 2 probes. Simply set the desired temperature and humidity on the box, and it will ensure they are maintained in your aging environment.
Connect a refrigerator/cellar to the box, and it will activate as soon as the interior temperature exceeds the value you have defined (usually between 10 to 14°C). Connect a humidifier to the box, place it in your refrigerator, and it will activate when the humidity drops below the defined value, turning it off once that value is reached. You only need to refill your humidifier when it is empty.
Overview

Temperature and humidity controller ITC-608T has certificate of ETL (US and Canada approved). The product will be much safe when using this unit. ITC-608T has multifunction control mode. It can control both temperature and humidity at the same time. (Plug both temperature and humidity sensor). Or control single temperature and has 12 different time stage periods for temperature control mode. Or only control humidity with plug humidity sensor. This unit supports both F and C degree, compress delay, calibration and reset setting values saving. ITC-608T is a good choice for homemade cheesemaking. 

Main features
Plug and play design, easy to use, can control temperature and humidity at the same time
Dual relay output, be able to connect with refrigeration and heating equipment at the same time; be able to connect with humidifier and dehumidifier equipment at the same time; be able to connect with refrigeration/ heating and humidifier/dehumidifier equipment at the same time
Support reading with Centigrade or Fahrenheit unit 
Maximum output load: 1800W (120V, 15A) 
Dual display window, be able to display measured temperature/humidity and set temperature/humidity at the same time
Supporting Temperature and humidity calibration 
Compressor delay protection for refrigeration control 
High and low temperature/humidity alarms are available 
Over-temperature/humidity and sensor fault alarm 
Heating/Cooling differential function could be set separately for refrigeration and heating to protect temperature controller from violent change. Same as humidity control
Support setting 12 different temperatures in 12 different time period​
Specification: 
Maximum output load:120Vac, 60Hz, 15A, 1800W 
Temperature measurement range:-40℃~100℃/-40℉~212℉ 
Temperature display accuracy:0.1℃/℉(<100℃/℉) 
Relative humidity measurement range:5~99%RH 
Humidity display accuracy:0.1%RH 
Display unit:temperature:Celsius °C or Fahrenheit °F;humidity:%RH 
Ambient temperature:-20℃~60℃/-4℉~140℉ 
Storage environment:temperature:0℃~60℃/32℉~140℉;humidity:20~80%RH(Unfrozen or condensation state ) 
Temperature sensor cable Length: 2m(78.74in) 
Humidity sensor cable Length: 2m(78.74in) 
Input Power Cable Length: 1.5m(59.05in) 
Unit Dimension: 20.8cm*8.5cm*3.5cm(8.19*3.35*1.38in) 
Warranty ITC-608T : 2 years
Warranty probes : 1 year

Package Content:  
1x ITC-608T temperature and humidity controller; 
1x temperature sensor 
1x humidity sensor 
1x manual
---
Contact

Categories

Accessories

Tags

Affinage maison, Contrôleur, Humidité, Température, Inkbird
Les commandes sont envoyées 1 fois par semaine, le lundi. Toutes les commandes passées après le samedi 12h sont envoyées la semaine suivante.
 
Livraison au Canada
Les frais de port sont offerts à partir de 100$ d'achat et plus (après application d'éventuels codes rabais et avant les taxes). Nous travaillons principalement avec Purolator pour le transport. Les commandes sont expédiées le lundi ou le mardi de chaque semaine.

Livraison ailleurs dans le monde
- Nous nous réservons le droit de refuser toute commande hors Canada en fonction de la nature des produits commandés. Si tel est le cas, nous effectuerons un remboursement complet sur la carte de crédit utilisée pour le paiement de la commande.
- Les destinataires sont tenus d'acquitter les éventuels frais de douane, taxes et autres frais additionnels pour toutes commandes à l'extérieur du Canada.
- Pour les envois hors Canada, nous ne pouvons pas garantir d'estimation quant à la date de livraison.