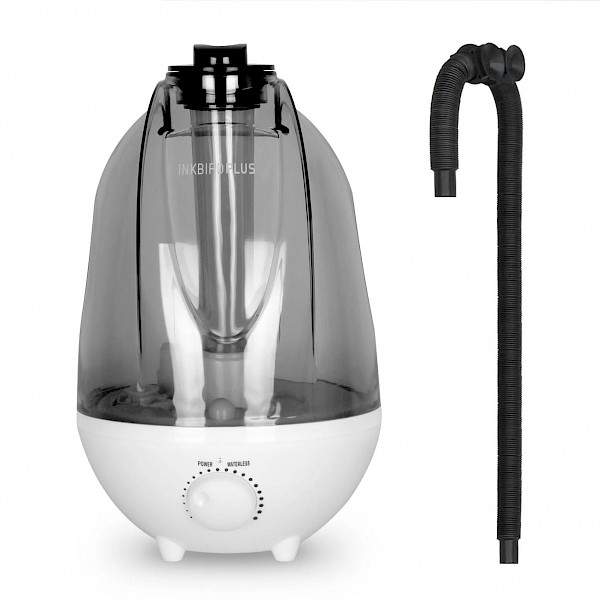 Aging space humidifier
This humidifier (originally designed for reptiles/vivariums/terrariums) is also useful for humidifying homemade cheese aging environments. It should always be used in conjunction with a humidity controller, otherwise the environment may become too humid. Also, make sure to set the regulator to the minimum position to prevent excessive condensation inside your environment and leaks on the floors.
The hose allows directing the moisture directly inside the aging environment. Please refer to the blog post on homemade cheese aging for more information.
 
Technical specifications:
Power: 110-220 V
Input: 50/60 Hz, max 27 watts
Noise: < 35 dB
Mist output: Max 380 ml/h
Dimensions: 4L

Contents:
1 humidifier
1 hose
2 suction cups
User manual (English)

Water tank filling precautions:
Always unplug the device before removing the water tank.
Turn the water tank upside down and remove the tank cap (with clean hands).
Use sterile water (previously boiled and cooled to room temperature) to fill the water tank.
Screw the tank cap back on and wipe off any residual water.
Place the water tank on the base and install it properly.
Note : Do not use extremely cold or water above 40°C as it may damage the humidifier.
---
Contact

Categories

Accessories

Tags

Affinage maison, Humidité, Inkbird
Les commandes sont envoyées 1 fois par semaine, le lundi. Toutes les commandes passées après le samedi 12h sont envoyées la semaine suivante.
 
Livraison au Canada
Les frais de port sont offerts à partir de 100$ d'achat et plus (après application d'éventuels codes rabais et avant les taxes). Nous travaillons principalement avec Purolator pour le transport. Les commandes sont expédiées le lundi ou le mardi de chaque semaine.

Livraison ailleurs dans le monde
- Nous nous réservons le droit de refuser toute commande hors Canada en fonction de la nature des produits commandés. Si tel est le cas, nous effectuerons un remboursement complet sur la carte de crédit utilisée pour le paiement de la commande.
- Les destinataires sont tenus d'acquitter les éventuels frais de douane, taxes et autres frais additionnels pour toutes commandes à l'extérieur du Canada.
- Pour les envois hors Canada, nous ne pouvons pas garantir d'estimation quant à la date de livraison.