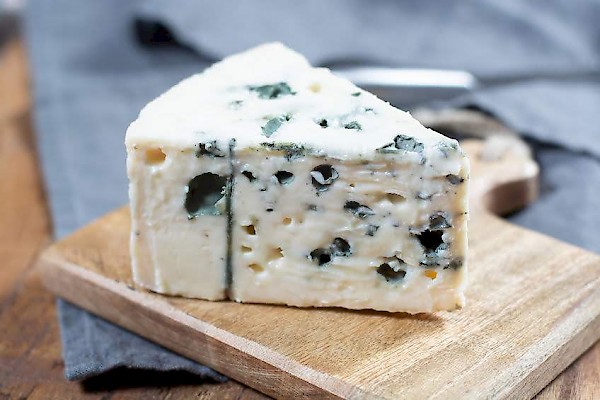 Penicillium Roqueforti PR A
PR A is a liquid mould culture consisting of a single strain of bright blue-green Penicillium roqueforti. The use of this culture ensures a controlled and very fast development of a green marbled carachteristic appearence of blue cheese. Due to medium proteolytic activity, low lipolytic activity and low esterase activity, the use of PRA is suitable for matuiration (softeing the texture) and slow development of aroma in mildcreamy cheese.
The bottle should be agitated vigorously under aseptically conditions before direct inoculation into the milk before renneting.
---
Brand : Sacco.
Type : Molds.
Format : 1D (pour 1000L de lait en moyenne).
Composition : Penicillium Roqueforti.
Application : Type bleu, Brie-bleu, Type gorgonzola, Type stilton, etc...
Equivalences : Chr. Hansen : SWING® PR / Danisco : PA, PS, PV / Codex-ing LyoPro® PR.
Best before date : 05/2024.
*Recommended dosage for a batch of 4L of milk : 0.1g.
*Dosage given as an indication only, refer to the recipe or the technical sheet.
Further information : Technical data sheet Penicillium Roqueforti PR A.
---
Contact

Categories

Cultures

Tags

Ferments, Cultures, Moisissures, Roqueforti, Fromage bleu
Storage : in the freezer, according to the BBD indicated on the bag.
Transport : the cultures withstand transport at room temperature for several days, put in the freezer upon receipt.
Recommended use : take the cultures out 15 minutes before use, take the required dose with the mini-measuring spoons or a precise scale and leave to rehydrate for a few minutes on the surface of the milk before stirring. Once the pouch is opened, transfer the powder to a foil pouch or sterile container and return to the freezer.
Les commandes sont envoyées 1 fois par semaine, le lundi. Toutes les commandes passées après le samedi 12h sont envoyées la semaine suivante.
 
Livraison au Canada
Les frais de port sont offerts à partir de 100$ d'achat et plus (après application d'éventuels codes rabais et avant les taxes). Nous travaillons principalement avec Purolator pour le transport. Les commandes sont expédiées le lundi ou le mardi de chaque semaine.

Livraison ailleurs dans le monde
- Nous nous réservons le droit de refuser toute commande hors Canada en fonction de la nature des produits commandés. Si tel est le cas, nous effectuerons un remboursement complet sur la carte de crédit utilisée pour le paiement de la commande.
- Les destinataires sont tenus d'acquitter les éventuels frais de douane, taxes et autres frais additionnels pour toutes commandes à l'extérieur du Canada.
- Pour les envois hors Canada, nous ne pouvons pas garantir d'estimation quant à la date de livraison.