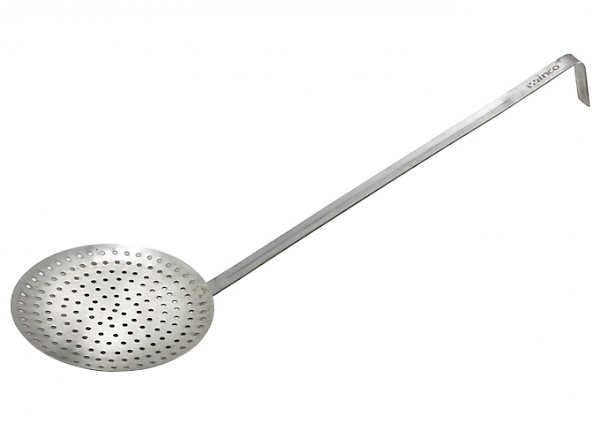 Stainless skimmer
Stainless steel skimmer suitable for racking off (sampling) the curd while letting the whey flow out.
This skimmer can also be used to stir milk slowly during certain manufacturing steps.
13" Handle
Stainless steel
Dishwasher safe
---
Contact

Categories

Accessories

Tags

Soutirage
Les commandes sont envoyées 1 fois par semaine, le lundi. Toutes les commandes passées après le samedi 12h sont envoyées la semaine suivante.
 
Livraison au Canada
Les frais de port sont offerts à partir de 100$ d'achat et plus (après application d'éventuels codes rabais et avant les taxes). Nous travaillons principalement avec Purolator pour le transport. Les commandes sont expédiées le lundi ou le mardi de chaque semaine.

Livraison ailleurs dans le monde
- Nous nous réservons le droit de refuser toute commande hors Canada en fonction de la nature des produits commandés. Si tel est le cas, nous effectuerons un remboursement complet sur la carte de crédit utilisée pour le paiement de la commande.
- Les destinataires sont tenus d'acquitter les éventuels frais de douane, taxes et autres frais additionnels pour toutes commandes à l'extérieur du Canada.
- Pour les envois hors Canada, nous ne pouvons pas garantir d'estimation quant à la date de livraison.